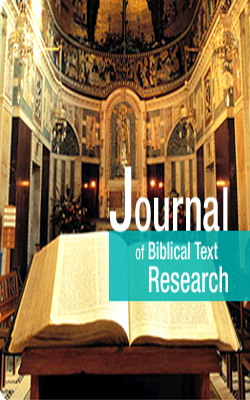 Journal of Biblical Research is an academic journal on biblical studies published bi-annually by the Institute for Biblical Text Research of the Korean Bible Society.
The Institute aims to update the journal readers with the latest research efforts made in the realm of biblical studies and Bible translation.
Such endeavor of the Institute was acknowledged also at the government level when Journal of Biblical Text Research was officially registered and endorsed as a journal of academic significance by the National Research Foundation of Korea.
For Potential Contributors
If you are interested in contributing to the journal, please check the following documents for guidelines:
READ OUR LATEST ISSUE – VOL. 52 / April, 2023
Table of Content
| | |
| --- | --- |
| Han-geun Cho | 52-01 (Kor.) A Sociological Interpretation on "Why Are the Wicked Alive?": Centered on Job 21:7-16 |
| Jimyung Kim | 52-02 (Kor.) On Teaching Biblical Hebrew: The Consonants |
| Seo-Jun Kim | 52-03 (Kor.) A Study on the Main Theme about the Analogy of a Child in the Gospel of Mark: Focusing on Understanding the Meaning of παιδίον and the Sentence Structure of Mark 10:15 |
| Euichang Kim | 52-04 (Kor.) A Suggestion on the Understanding and Interpretation of 1 Corinthians 15:45: Adam as the Living Flesh and Christ as the Life-Giving Spirit |
| Gyusang Jin | 52-05 (Kor.) Analysis of Participants' Agent Roles in the Two Major Divisions of Leviticus |
| Hannah S. An | 52-06 (Kor.) Water (and Blood) in Ezekiel 16 and 36-37 |
| Peter-Ben Smit | 52-07 (Eng.) Inclusive and Exclusive Translations of ἄνθρωπος in the Gospel of Mark |
| Robert Bascom (Duk Joon Park, trans.) | 52-08 (Kor.) Terms or Phrase Usage and Contextual Meaning: A Reexamination of Semantic Issues in Translation |
| Hye-Jin Jeong | 52-09 (Kor.) Book Review – Let's Play with Greek Vocabulary |
---
VIEW PAST ISSUES
| | | |
| --- | --- | --- |
| 2023 | VOL. 52 2023-04 | |
| 2022 | VOL. 51 2022-10 | |
| | VOL. 50 2022-04 | |
| 2021 | VOL. 49 2021-10 | |
| | VOL. 48 2021-04 | |
| 2020 | VOL. 47 2020-10 | |
| | VOL. 46 2020-04 | |
Issues Published from 2010 to 2019

| | | |
| --- | --- | --- |
| 2019 | VOL. 45 2019-10 | |
| | VOL. 44 2019-04 | |
| 2018 | VOL. 43 2018-10 | |
| | VOL. 42 2018-04 | |
| 2017 | VOL. 41 2017-10 | |
| | VOL. 40 2017-04 | |
| 2016 | VOL. 39 2016-10 | |
| | VOL. 38 2016-04 | |
| 2015 | VOL. 37 2015-10 | |
| | VOL. 36 2015-04 | |
| 2014 | VOL. 35 2014-10 | |
| | VOL. 34 2014-04 | |
| 2013 | VOL. 33 2013-10 | |
| | VOL. 32 2013-04 | |
| 2012 | VOL. 31 2012-10 | |
| | VOL. 30 2012-04 | |
| 2011 | VOL. 29 2011-10 | |
| | VOL. 28 2011-04 | |
| 2010 | VOL. 27 2010-10 | |
| | VOL. 26 2010-04 | |
Issues Published from 2000 to 2009

| | | |
| --- | --- | --- |
| 2009 | VOL. 25 2009-10 | |
| | VOL. 24 2009-04 | |
| 2008 | VOL. 23 2008-10 | |
| | VOL. 22 2008-04 | |
| 2007 | VOL. 21 2007-10 | |
| | VOL. 20 2007-04 | |
| 2006 | VOL. 19 2006-10 | |
| | VOL. 18 2006-04 | |
| 2005 | VOL. 17 2005-10 | |
| | VOL. 16 2005-04 | |
| 2004 | VOL. 15 2004-10 | |
| | VOL. 14 2004-04 | |
| 2003 | VOL. 13 2003-10 | |
| | VOL. 12 2003-01 | |
| 2002 | VOL. 11 2002-09 | |
| | VOL. 10 2002-02 | |
| 2001 | VOL. 09 2001-08 | |
| | VOL. 08 2001-02 | |
| 2000 | VOL. 07 2000-08 | |
| | VOL. 06 2000-02 | |
Issues Published before 2000